Page 3 of 6
Starting the Day Together With the Holy Son
Pastor Jung Myung Seok's day always begins with 1 a.m. predawn prayer. Despite working late into the night with matters from the previous day and barely being able to sleep, even with an utterly exhausted body, he still awakes the predawn to pray in order to fully receive and record the words of the Holy Son.
After cleansing his body, Pastor Jung would kneel before the Holy Trinity in worship and offer confessions of thanksgiving. For the salvation of mankind and redemption of sins, peace in the global village, the protection of life, and God's Will to be fulfilled in this land, he sheds fiery hot tears and earnestly petitions to God with his life on the line. In this manner, he prays three times a day for more than seven hours.
In order to set special prayer conditions, Pastor Jung willingly engages in six or seven months of minimal eating. He has already endured over six months of minimal eating prayer on several occasions.
Through the power of prayer, he broke the seals of the new Word the Holy Son has given for this time period. Seeing the countless souls and spirits receiving salvation through the Truth, Pastor Jung forgets all his fatigue and pain.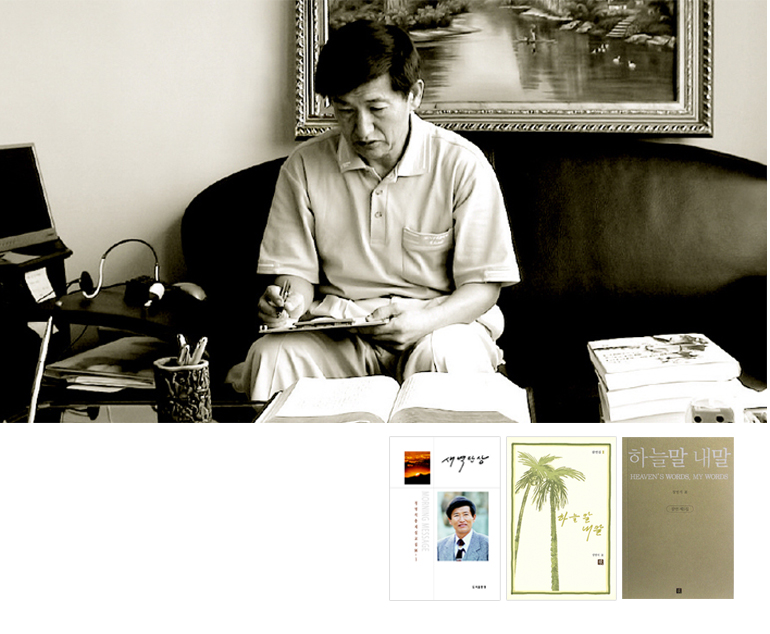 Transcribing After Hearing and Understanding His Voice
Pastor Jung Myung Seok is able to hear the voice of the Holy Son. Every day, on his knees, he receives and records the words of the Holy Son. Contained within each transcription is the fiery message of the Holy Trinity.
Questions that have troubled mankind: "Who am I? Why? How must I live? Did God create human beings? Does the after world really exist?" The fundamentals and true answers to these questions are all provided. In this way, even two pens are insufficient for Pastor Jung to fully transcribe all the Word he receives from the Holy Son every day.
Anyone in this world who reads the Holy Son's messages that Pastor Jung records will be able to truly realize how to resolve life's issues. Currently, he is primarily focussing on manually recording the Word with a pen.
Now, the gospel of the Holy Son has spread to over 30 nations in the world and more than 300 churches; the driving force behind this is Pastor Jung Myung Seok's love and heart of sacrifice.
In 1995, he was a nominee in The Trend of Literature magazine for new artists.
In 1989, Poetry of Inspiration was published and gained recognition in the world.
In 2013 July, his poetry collections, Woman of Poetry and Speaking Through Poetry (temporary translations), became best-sellers.
Additionally, ten of Pastor Jung's poems are registered in the Unabridged Korean Poetry Dictionary (2011), which covers 100 years of Korean poetry history.
Aside from writing books, Pastor Jung Myung Seok has also spread the words of the Lord through over 1,000 pages of sermons and speeches.